Green Door Consulting Group is committed to the growth and development of community-based financial institutions by offering services that help them to build trust, drive effective communication and enhance personal accountability with their employees and customers alike.
Green Door Consulting Group
Green Door Consulting group is a consulting firm that has a habit of sticking our noses into the core culture of community based financial institutions that are either struggling to introduce a "sales culture" or more likely have struggled to sustain the sales culture they have. Green Door believes that financial institution growth is directly tied to building a culture of expectations, accountability, trust and communication.
www.greendoorconsultinggroup.com


Adding Value to our clients and candidates is at the core of everything we do. I believe it is the only true way to form partnerships and provide the necessary guidance and service that separates us from a robot or a website.
– Jay Brunetti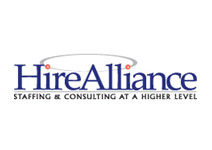 HireAlliance
HireAlliance is a full-service recruiting and consulting company focused on providing value to the staffing industry as well as to the corporate recruiting and human resources sectors. Clients work with us when they need a partner to help them solve hiring and onboarding challenges, while job seekers engage us for career counseling and support as they contemplate their next moves.
www.hirealliance.com