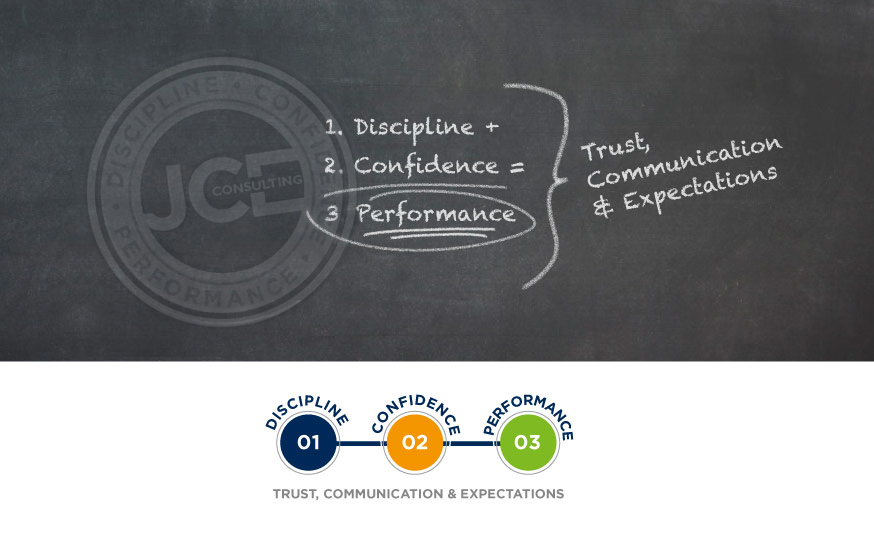 What JCE Consulting does best is create disciplined practices and processes that are simple. We build confidence and conviction in people and consistently reinforce effective strategies that result in outstanding performance.
Our approach begins by addressing the challenges an organization has and figuring out the right game plan to be successful. Built into the process are two core components: honest communication and trust. These are the foundations upon which our relationships are built.

Partnering with Dave Turano has enriched our overall sales strategy. Our sales process has been refined and we have enhanced our recruiting effort throughout the organization. The advancements in both areas have provided the essential foundation for our CRM rollout.
– John Manzi – CEO of Precision Engineered Products

DISCIPLINE:
Our approach to discipline helps individuals and teams diagnose what they need to develop or improve and to establish a commitment to an activity, routine or regimen that enables them to grow. To us, discipline is non-negotiable and ensures that we remain committed to the activities that produce results.
CONFIDENCE:
Confidence is trust, belief, and conviction in yourself and your ability. Our role is to help individuals and teams feel confident in the decisions they make, processes they use, and tactics / strategies they define.  Confidence is the buy-product of discipline and a pre-requisite for successful performance and execution.
PERFORMANCE:
Performance is the result of discipline and confidence — discipline to execute on a great plan coupled with the confidence that you will succeed, yields performance.  It's all about the execution and knowing you will be successful.